Echocardiography
Using ultrasound to visualize heart function
Cardiac ultrasound, also known as echocardiography, uses sound waves to capture moving images of the heart. These images enable assessment of the heart's size, shape and function. Echocardiography helps physicians identify areas of the heart that are not functioning properly due to poor blood supply as in patients with coronary artery disease.
Echocardiography, considered to be one of the safest, most reliable and cost-effective ways to diagnose certain cardiac abnormalities, is the most widely used technique for non-invasive imaging of the heart. In 2015, more than 31 million echocardiography procedures were performed in the United States.
Optimizing quality to increase accuracy
Echocardiography may, however, yield suboptimal images of limited diagnostic value in certain situations. It is estimated that suboptimal image quality occurs in approximately 20% of all echocardiography procedures in the United States.
Sometimes these suboptimal images result from signal attenuation due to different body types, gender and/or pre-existing conditions.
The American Society of Echocardiography (ASE) defines a suboptimal image as the inability to detect two or more contiguous segments in any three of the apical windows. Suboptimal image quality is estimated to occur in approximately 20% of all patients undergoing echocardiography in the United States.
Suboptimal images may lead to misdiagnosis or the need for additional, often unnecessary and costly, tests. Use of contrast agents in echocardiography increases sensitivity (the ability to identify the disease) and specificity (the ability to rule out the disease) by improving the delineation of the edges of the heart wall and providing greater accuracy in determining left ventricular function.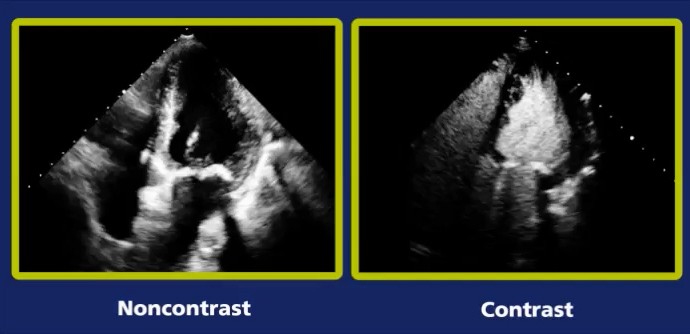 When a suboptimal echo is acquired, leading societies advocate the use of ultrasound contrast. These societies include the ASE, the Intersocietal Accreditation Commission Echocardiography (IAC Echo), the American College of Cardiology Foundation (ACCF) and the International Contrast Ultrasound Society (ICUS).
DEFINITY® Vial for (Perflutren Lipid Microsphere) Injectable Suspension, Lantheus' ultrasound contrast imaging agent, is the leading echocardiography agent based on usage and market share.