History of Innovation
Pioneering the Field of Diagnostic Imaging
Lantheus helps physicians enhance patient care with a product portfolio that illuminates the heart and other organs. Our pioneering products assist physicians in the diagnosis of conditions affecting the heart, brain, lungs and other organs using echocardiography and nuclear imaging.
As a leader in the field of diagnostic imaging for 60 years, we have historically launched many first-in-class radiopharmaceutical products including the technetium Tc-99m generator, gallium-67, xenon-133, and thallium-201.
The approval and launch of the most successful radiopharmaceutical in history, Cardiolite®, solidified our commitment to healthcare and innovation.
The launch of DEFINITY®, now the leading echocardiography contrast agent in the U.S., further advanced our reputation as a leader in offering innovative products critical to evaluating cardiac health.  
Lantheus continues to enhance current imaging modalities and fulfill unmet diagnostic medical imaging needs, including the more recent launch of Low-Enriched Uranium (LEU) TechneLite®, produced from at least 95 percent LEU molybdenum-99 (Mo-99), as part of our efforts to eliminate Highly Enriched Uranium (HEU)-sourced Mo-99 from our supply chain.
Future of medical imaging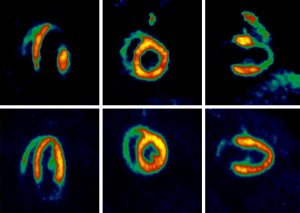 Over the last few decades, diagnostic imaging has made great progress in aiding the medical community in diagnosing, staging and prognosis of disease.  However, several unmet medical needs remain in spite of these advances.  An aging population coupled with the ongoing obesity epidemic makes early detection and treatment of several diseases, and cardio-metabolic disease in particular, of paramount importance.
While cardiovascular disease remains the leading cause of death in women, the accuracy of the currently available non-invasive diagnostic tests also remains much lower in women than in men.
Improvements in image quality and the ability to quantify tissue perfusion and to gather additional physiological information have the potential to greatly impact medical treatment and outcomes in the overall population and particularly in those still underserved.
Lantheus has established a portfolio of two internally-discovered imaging agents in clinical development, each of which has the potential to significantly enhance current imaging modalities and fulfill unmet diagnostic medical imaging needs.