A globally diversified supply chain that delivers essential products daily
Lantheus has an expertise in the design, development and validation of complex just-in-time manufacturing systems and processes that many of our radiopharmaceutical products require due to their limited half-lives. Our strong track record of on-time delivery and reputation as a reliable provider has enabled us to become a leader in the diagnostic imaging industry.
Supply Chain Diversification
Lantheus is committed to ensuring supply of our products.  We continue to build a strong and diversified supply chain for our key products to meet the imaging needs of our customers and the patients they serve.
As a leader in the radiopharmaceutical business, Lantheus has undertaken key initiatives to implement a globally diversified and balanced supply chain of Molybdenum-99 (Mo-99) for our TechneLite® (Technetium Tc-99m) generators. We continue to commit to securing and ensuring reliable access to Mo-99 to ensure that the needs of the imaging community and patients are met.
We believe we have the most globally balanced and diversified supply of Mo-99 in the industry which provides us with reliable access and capacity to meet our customers' needs. We presently receive Mo-99 from three of the four major Mo-99 processors and five of the six associated producing reactors.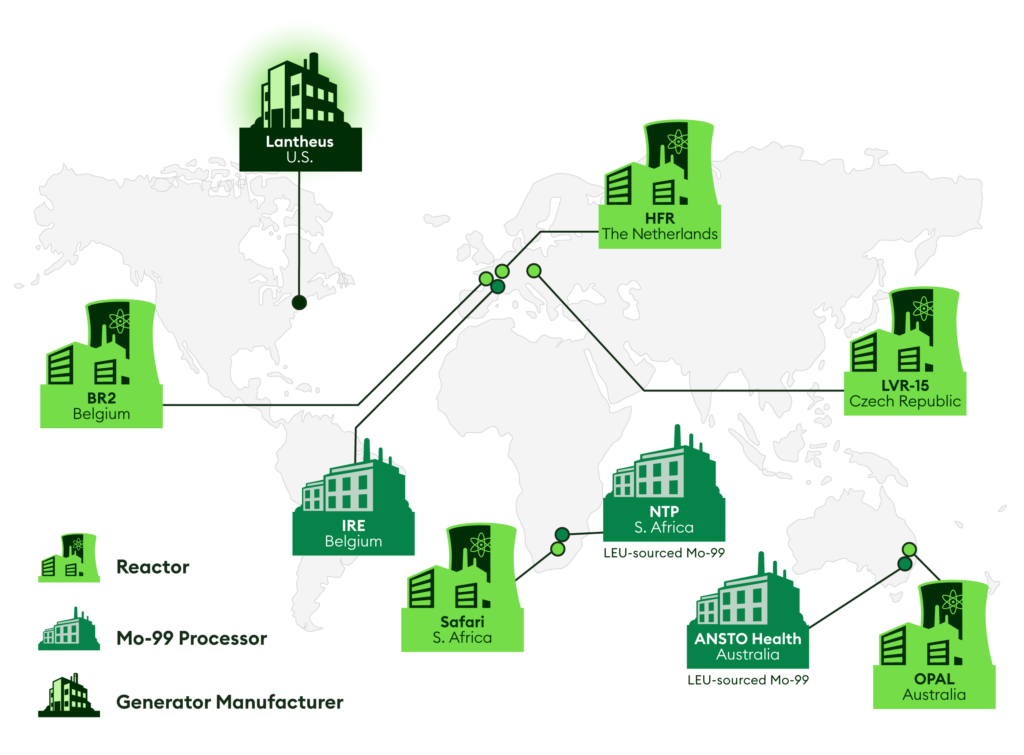 Lantheus is the industry leader in adopting the use of Low-Enriched Uranium (LEU)-produced Mo-99, an important part of our diversified Mo-99 supply. In 2014, we entered into a strategic agreement with SHINE Medical Technologies for the future supply of Mo-99 produced using Shine's proprietary LEU-solution technology.
For DEFINITY®, the leading cardiac ultrasound contrast imaging agent, we are moving toward a diversified supply chain with multiple manufacturers to ensure the continuous availability to meet market demand.