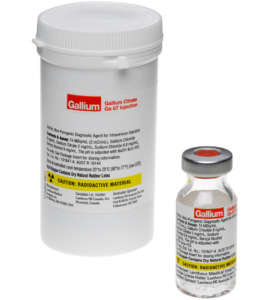 Gallium-67 is an injectable radiopharmaceutical that is used with single photon emission computed tomography (SPECT) or SPECT/computed tomography (CT) imaging to detect the presence of acute inflammatory lesions and various malignancies including Hodgkin's disease, lymphomas, and bronchogenic carcinomas. Positive Gallium uptake in the absence of prior symptoms warrants follow-up as an indication of a potential disease state.
Gallium-67 has been commercially available from Lantheus since 1971.
Questions:
For more information, please contact us.
Important Safety Information
INDICATIONS AND USAGES
Gallium Citrate Ga 67 Injection may be useful in demonstrating the presence of the following malignancies: Hodgkins disease, lymphomas and bronchogenic carcinoma.  Positive Ga 67 uptake in the absence of prior symptoms warrants follow-up as an indication of a potential disease state.
Gallium Citrate Ga 67 Injection may be useful as an aid in detecting some acute inflammatory lesions.
CONTRAINDICATIONS
None known.
IMPORTANT SAFETY INFORMATION
Severe itching, erythema, and rash were observed in one patient of 300 studied.
The rare occurrence of hypersensitivity reactions or allergic reactions, skin rash, and nausea have been reported in association with Gallium 67 use.
WARNINGS
Because of the benzyl alcohol content, caution should be used in administration to newborns, particularly infants born prematurely, and individuals with impaired liver function.
The vial stopper contains dry natural rubber latex and may cause allergic reactions in providers or patients who are sensitive to latex.
PRECAUTIONS
General
Abnormal gallium concentration usually implies the existence of underlying pathology, but further diagnostic studies should be done to distinguish benign from malignant lesions.  Gallium Citrate Ga 67 Injection is intended for use as an adjunct in the diagnosis of certain neoplasms.  Certain pathologic conditions may yield up to 40% false negative gallium studies.  Therefore, a negative study cannot be definitively interpreted as ruling out the presence of disease.
Lymphocytic lymphoma frequently does not accumulate Gallium Ga 67 sufficiently for unequivocal imaging; and the use of gallium with this histologic type of lymphoma is not recommended at this time.
Gallium Ga 67 localization cannot differentiate between tumor and acute inflammation; and other diagnostic studies must be added to define the underlying pathology.
Gallium Citrate Ga 67 Injection, as well as any other radioactive drugs, must be handled with care, and appropriate safety measures should be used to minimize external radiation exposure to patients and to clinical personnel.
Radiopharmaceuticals should be used only by physicians who are qualified by training and experience in the safe use and handling of radionuclides and whose experience and training have been approved by the appropriate government agency authorized to license the use of radionuclides.
Please see full Prescribing Information.
Ordering Information
Customer Service: 1-800-299-3431
Online: https://ecommerce.lantheus.com
Fax Orders/POs: 1-978-436-7501
Email: mics@lantheus.com

| Catalog Number | Product Description |
| --- | --- |
| GA6 | 6.6 mCi vial |
| GA8 | 8.8 mCi vial |
| GA12 | 13.2 mCi vial |
| GA18 | 19.8 mCi vial |