QUADRAMET®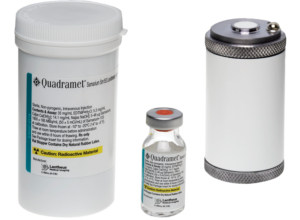 QUADRAMET® is an injectable radiopharmaceutical used to treat bone pain associated with certain kinds of cancer.
It is primarily used to treat the pain associated with osteoblastic and mixed bone metastases confirmed on a radionuclide bone scan and has demonstrated efficacy in patients with prostate, breast and other primary cancers.1,2,3
QUADRAMET® may manage cancer bone pain with relief as early as one week.1,2
Questions?
For more information, please contact us.
Important Safety Information
INDICATIONS
QUADRAMET® is indicated for relief of pain in patients with confirmed osteoblastic metastatic bone lesions that enhance on radionuclide bone scan.
SELECTED IMPORTANT RISK INFORMATION ABOUT QUADRAMET®
CONTRAINDICATIONS: QUADRAMET® is contraindicated in patients who have known hypersensitivity to EDTMP or similar phosphonate compounds.
WARNINGS and PRECAUTIONS: QUADRAMET® causes bone marrow suppression. Before administered, the patient's current clinical, hematological status, and bone marrow response history to myelotoxic agents should be considered. Metastatic prostate and other cancers can be associated with disseminated intravascular coagulation (DIC); caution should be exercised in treating cancer patients whose platelet counts are falling or who have other findings suggesting DIC. Blood counts should be monitored weekly for at least 8 weeks or until bone marrow recovery.
The potential for additive bone marrow toxicity of QUADRAMET® with chemotherapy or external beam radiation has not been studied. QUADRAMET® should not be administered concurrently with either of these treatments unless the benefits outweigh the risks. QUADRAMET® should not be given after either of these treatments until there has been time for adequate marrow recovery.
QUADRAMET® can cause fetal harm. Women of childbearing potential should be advised to avoid becoming pregnant soon after receiving QUADRAMET®. If administered, pregnant patients should be apprised of the potential hazard to the fetus and the potential for serious adverse reactions in nursing infants.
ADVERSE EVENTS: The most frequent events are thrombocytopenia, leukopenia, and decreased hemoglobin.
Please see full Prescribing Information.
Ordering Information
Customer Service: 1-800-299-3431
Email: mics@lantheus.com

QUADRAMET Ordering Guide
Catalog Number
Product Description
SM3-W
QUADRAMET® SM-153 EDTMP 150 mCi vial
Related Materials
V9
QUADRAMET® Vial Shield
References:
Sartor O. et al., Samarium-153-Lexidronam Complex Treatment of Painful bone Metastases In Hormone-Refractory Prostate Cancer, UROLOGY, 2004;63:940-945.
Quadramet® [Package Insert]. N. Billerica, MA: Lantheus Medical Imaging,Inc.
Morris M. et al., Phase I Study of Samarium-153 Lexidronam With docetaxel in Castration-Resistant Metastatic Prostate Cancer, Journal of Clinical Oncology, 2009;27:2436-2442.