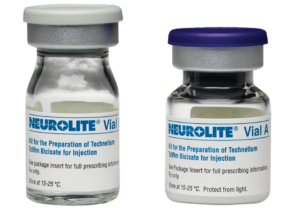 NEUROLITE® is a technetium-labeled single photon emission computed tomography (SPECT) imaging agent primarily used as an adjunct to identify the area within the brain where blood flow has been blocked or reduced due to stroke.
The uptake in the brain is rapid with NEUROLITE® with a wide imaging window between 10 minutes and six hours.  NEUROLITE® rapidly clears the blood, as well as soft tissue and facial muscles.
Questions?
For more information, please contact us.
Important Safety Information
INDICATIONS
NEUROLITE® single photon emission computerized tomography (SPECT) is indicated as an adjunct to conventional CT or MRI imaging in the localization of stroke in patients in whom stroke has already been diagnosed.
NEUROLITE® is not indicated for assessment of functional viability of brain tissue or for distinguishing between stroke and other brain lesions.
CONTRAINDICATIONS
None known.
IMPORTANT SAFETY INFORMATION
In clinical trials, NEUROLITE® has been administered to 1063 subjects (255 normals, 808 patients).   In the 808 patients with neurologic events, there were 11 (1.4%) deaths, none of which were clearly attributed to NEUROLITE®.
The following adverse effects were observed in ≤ 1% of the subjects: headache, dizziness, seizure, agitation/anxiety, malaise/somnolence, parosmia, hallucinations, rash, nausea, syncope, cardiac failure, hypertension, angina, and apnea/cyanosis.
WARNINGS
None known.
PRECAUTIONS
General
USE WITH CAUTION IN PATIENTS WITH RENAL OR HEPATIC IMPAIRMENT. TECHNETIUM Tc99m BICISATE IS ELIMINATED PRIMARILY BY RENAL EXCRETION. WHETHER TECHNETIUM Tc99m BICISATE IS DIALYZABLE IS NOT KNOWN. DOSE ADJUSTMENTS IN PATIENTS WITH RENAL OR HEPATIC IMPAIRMENT HAVE NOT BEEN STUDIED.
Patients should be encouraged to drink fluids and to void frequently during the 2-6 hours immediately after injection to minimize radiation dose to the bladder and other target organs.
As with any other radioactive material, appropriate shielding should be used to avoid unnecessary radiation exposure to the patient, occupational workers, and other people.
Radiopharmaceuticals should be used only by physicians who are qualified by specific training in the safe use and handling of radionuclides.